In the packaging material market, although cosmetic spray bottle packaging materials are diversified, plastic spray bottles are the first choice for customers to choose spray bottles. Why do customers like plastic spray bottles when they choose spray bottles? Because plastic spray bottles have the following advantages for customers: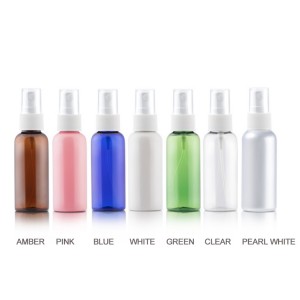 1. Plastic material, lighter and more convenient to carry;
2. Compared with glass and metal spray bottles, plastic spray bottles are easier to form and make products that customers need more easily;
3. The cost is relatively lower than other materials, and the packaging grade is not lost;
4. Compared with other materials, the spray will be relatively more delicate. Since the plastic itself is softer, the bottle body will partly shrink when spraying, creating a hedging force, making the spray more delicate and longer;
5. It is less prone to leakage. The pump head is usually made of plastic material, and the spiral structure between the plastic and the plastic is more densely closed and firm, tightly locking the air, and less likely to leak. The airtightness of plastic and other materials is relatively poor, and other materials are more silky and harder to reinforce;
6. High cost performance. Plastic spray bottles kill other materials in terms of cost performance.
Shanghai Rainbow Industrial Co., Ltd is the manufacturer, Shanghai rainbow package Provide one-stop cosmetic packaging.If you like our products, you can contact us,
Website: www.rainbow-pkg.com
Email: Bobby@rainbow-pkg.com
WhatsApp: +008613818823743
---
Post time: Aug-18-2021